Titan Products are delighted to have supplied the prestigious residential development 3 Merchant Square with our FCU-4 fan coil controller and bespoke RDU-4 room display user interface.
To maintain comfort levels within each apartment room the FCU-4 controlled the cooling via the ceiling mounted fan coils and the heating via the underfloor heating. With both the heating and cooling being controlled by the one controller it means that the heating and cooling will never be on at the same time or 'fight' against each other. This makes the FCU-4 an extremely energy efficient option.
Flexible Control Options
With the FCU-4 capable of controlling both relay and EC driven fans plus a wide range of valve types including 0-10V, 24V AC ON/OFF, 24V AC TPC and 24V AC PWM, the FCU-4 is the perfect choice for applications that require Fan Coil and Under Floor Heating control.
The application specific controllers are also supplied with BACnet communications embedded as standard which makes them extremely easy to add to a building management system (BMS). This allows for communications between other systems on the project and allows for features such as time scheduling and valve flushes to be written to the controllers.
Bespoke Room Display Unit:
For 3 Merchant Square, Titan Products developed a 6 button version of the RDU display unit which incorporated 'full cool' and 'full heating' buttons. If pressed these buttons would force the cooling or heating outputs to me maximised and act as a boost to get the apartment to the desired comfort levels as quickly as possible.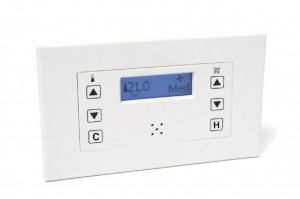 For more information on our FCU-4 or any other BACnet products please visit www.titanproducts.com or
Contact the sales team on 0161 406 6480.

Titan Products are experts in HVAC Control, Sensors and peripherals. Contact us on sales@titanproducts.com or call 0161 4066480

Latest posts by Iain Twiss (see all)
Related posts: