The TP-NM-R/1000 NetMaster Router is a high-performance, intelligent and secure communications product designed to route BACnet MS/TP network points to BACnet IP.
The Router is designed and manufactured in-house at Titan Products and provides comprehensive features that include:
Responsive HTML5 commissioning web pages that automatically re-size for PC, laptop and mobile smart devices
Fully supports backup and restore of compatible Titan MS/TP devices
Flexible routing options for 2 x IP networks from one NetMaster router
Advanced 10/100 Mbps Ethernet and support for MS/TP baud rates from 9,600 to 76,800 bps
Supports BACnet Broadcast Management Device (BBMD) and Foreign Device Registration (FDR)
The TP-NM-R/1000 is quick and easy to install with the DIN rail mounted enclosure.
Throughout September 2017, we are offering our TP-NM-R/1000 at a discounted rate. Please contact us quoting SEPT-B for further information.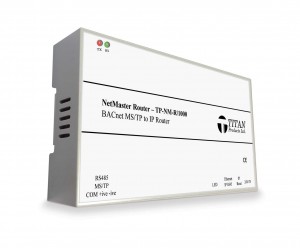 Titan Products are experts in HVAC Control, Sensors and peripherals. Contact us on sales@titanproducts.com or call 0161 4066480

Latest posts by Iain Twiss (see all)
Related posts: