Titan Products continue to develop the TPZ-Net range of wireless sensors with the release of the TPZ-PIR and TPZ-PIR/LL wireless occupancy PIR sensors.
With a range of up to 12 metres, the completely wireless, battery powered PIR sensors are designed to detect movement in a space and then transmit a wireless signal to the TPZ-Net co-ordinator when movement is detected.
Communicate with the BACnet network
The co-ordinator then communicates this occupied state over a BACnet network which allows lighting and HVAC applications to be enabled when occupants enter the room. This control on demand is essential when aiming to reduce energy consumption.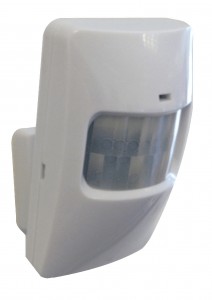 The TPZ-PIR and TPZ-PIR/LL wireless occupancy sensors will transmit an unoccupied signal after a delay timer has completed its cycle uninterrupted by movement detection. This timer can be adjusted via the TPZ-Net PC commissioning software.
The TPZ-PIR/LL sensor incorporates a Light Level sensor that reports the light level (lux) every 2 minutes wirelessly when the room is in an occupied state.
When used for lighting applications the light level sensor can be used to ensure that lighting is not switched on unnecessarily. A light level high limit can be set during the commissioning process which ensures that the change of value reporting for the light level will be inhibited once the light level exceeds this level.
Fitted with a clip-in AA sized battery the TPZ-PIR wireless occupancy sensors are perfect for office, schools and other building environments where control on demand is essential to keep energy costs down.
The TPZ-Net range also includes wireless Temperature, CO2, Humidity and Light level sensors.
Incorporating Zigbee wireless technology the range creates extremely stable, self-healing mesh networking capabilities.
The TPZ-Net range is supplied with Titan Products bespoke PC interface to allow for quick and simple setup and commissioning.

Titan Products are experts in HVAC Control, Sensors and peripherals. Contact us on sales@titanproducts.com or call 0161 4066480

Latest posts by Iain Twiss (see all)
Related posts: