Titan Products Smart room sensors are designed to monitor Co2, humidity and temperature conditions within a space and expose these parameters over a BACnet MS/TP to Modbus network. The Smart sensors benefit from fully open communications with interposable BACnet MS/TP and Modbus standards, increasing their compatibility and capabilities.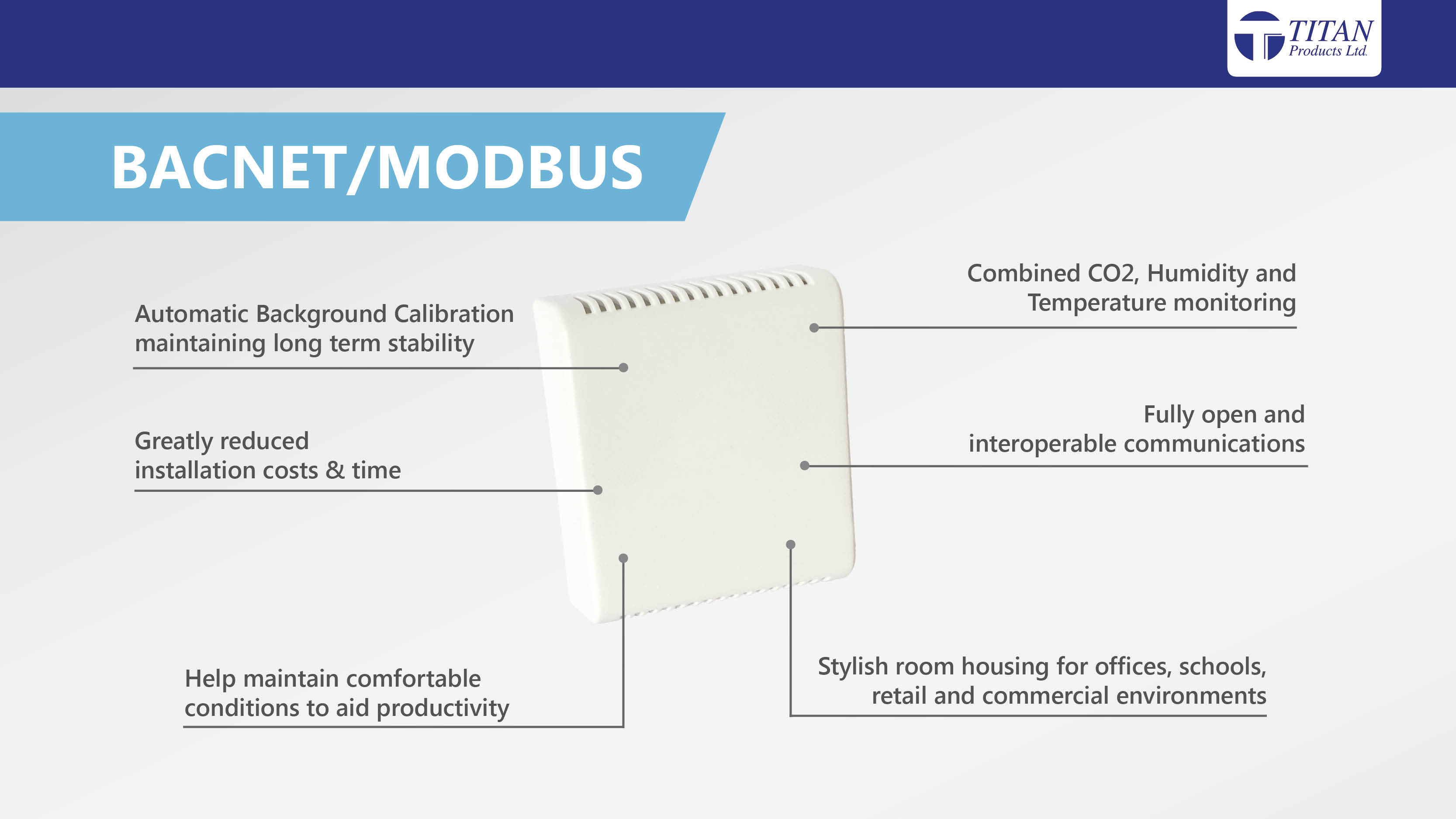 Measuring multiple environmental conditions over one network bus can drastically reduce wiring and installation costs over conventional wired sensors. The Smart sensors also aid accurate control by allowing multiple environmental conditions within a building to reliably exchange and monitor information over one network bus, reducing energy costs for the end user. The sensors also incorporate Automatic Background Calibration (ABC) technology to achieve optimum accuracie
Easily addressed via the on-board DIP switches, the Smart sensors are ideal for a wide range of applications that require ventilation on demand such as schools, universities, leisure centres, theatres and offices. In addition to monitoring the Co2, humidity and temperature conditions, the Smart sensors are supplied with 1 x digital output (DO) and 1 x digital input (DI) allowing the BMS or connected controller to monitor the DI and write to the DO. The DO is ideal for fan and heating enabling while the DI can be connected to occupancy sensors or override push buttons allow these to be viewed over the network.
To discover more about our Smart Sensors and to shop click here: https://www.titanproducts.com/smart-sensors.html
Alternatively please contact us on 0161 406 6480 or email sales@titanproducts.com for more information

Titan Products are experts in HVAC Control, Sensors and peripherals. Contact us on sales@titanproducts.com or call 0161 4066480

Latest posts by Iain Twiss (see all)
Related posts: