Over 375 FCU-4 fan coil unit controllers have been installed at Royal London Insurance Group in Wilmslow. The building comprises 3 floors of occupied office space and the installation of the new fan coil unit controllers will provide heating and cooling to the building. The occupants are quickly able to adjust temperature settings and operation through the stylish RDU-4 display unit, ensuring optimum comfort of the occupants at all times. A RS485 network was installed between each Titan FCU-4 master controller and associated slave controllers allowing temperature settings and times to be sent from controller to controller from the network master.
The installation was completed by Nyke Energy who undertook a comprehensive commissioning exercise ensuring all existing fan coil units operated efficiently and to the clients needs. This was a critical process with access to the units being extremely difficult. Nyke Energy recommended and delivered the FCU-4 as it allowed a flexible and budget friendly solution, which was configured to the client's application by Titan prior to delivery.
Nyke Energy were able to provide a cost effective solution to upgrade the existing fan coil unit controls which had reached the end of their working life. The solution had to provide a means of installation with minimal disruption as the building was to remain occupied and unaffected for the entire 14-week upgrade program.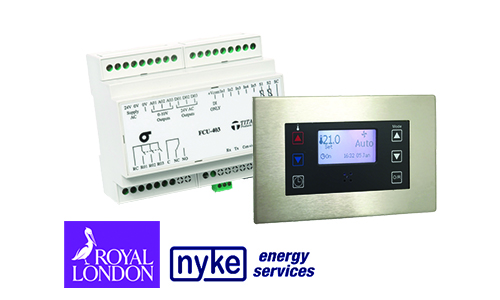 Titan Products are experts in HVAC Control, Sensors and peripherals. Contact us on sales@titanproducts.com or call 0161 4066480

Latest posts by Iain Twiss (see all)
Related posts: