Driven by common goals to reduce build costs, increase the ease and flexibility of installation and to create a more connected world, Zigbee wireless communications have been around for many years, creating a wide range of solutions across a variety of applications. These applications include home automation, commercial building automation, lighting control and green energy. In the past, each application was catered for via its own Zigbee profile making it difficult for products operating on differing Zigbee profiles to be completely and freely interoperable. Not anymore!
The Zigbee Alliance, a group of software developers, hardware manufacturers, OEMs and service companies, have worked closely together to develop a Zigbee profile which unifies a number of Zigbee profiles under one umbrella and a common certification standard – Zigbee 3.0.
Built on the Zigbee Pro platform, by rationalising profiles and its inherent forward and backward compatibility with the last generation of Zigbee profiles, Zigbee 3.0 greatly enhances the interoperability of products providing the opportunity for multi-vendor systems across a number of applications which include HVAC, lighting and security.
Mesh networking and an enhanced security layer, along with low power capabilities, make Zigbee 3.0 the wireless communications choice of many. According to the Zigbee Alliance, there are now over 2,500 certified products with over 300,000,000 Zigbee devices deployed worldwide, illustrating the growing success, popularity and reliability of Zigbee.
Combining Zigbee 3.0 communications with the extensive HVAC expertise Titan Products has amassed over the last 30 years, allows new opportunities to be created and for the bar to be raised at the forefront of wireless communications. It is this innovation that allows new products to be created such as the market leading Zigbee 3.0 CO2 sensor creating the possibility to now monitor CO2 levels across a wide range of Zigbee installations and ecosystems.
The next generation of HVAC monitoring is truly upon us and Titan Products are leading the charge.
For more details on Zigbee 3.0 devices from Titan Products, please click here or contact the sales team on +44 (0)161 406 6480 or sales@titanproducts.com.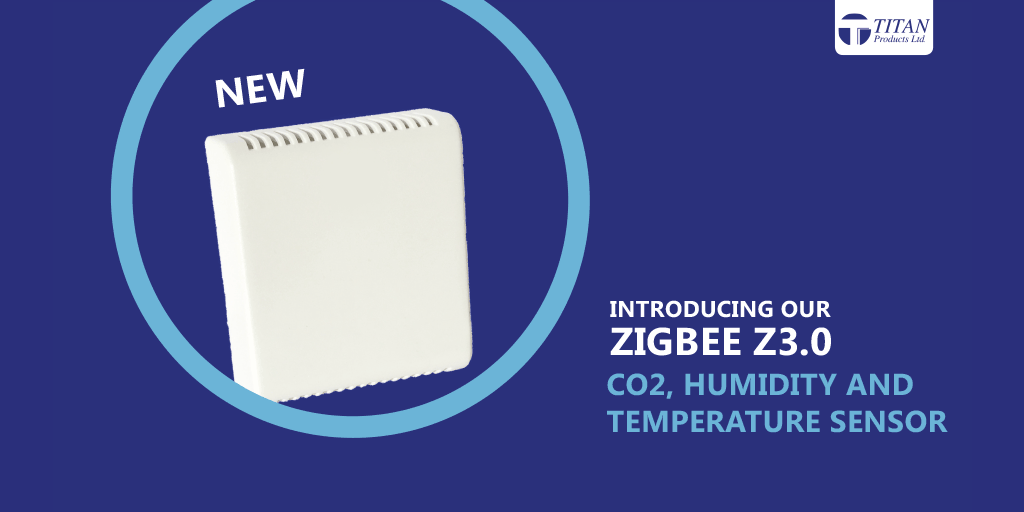 Titan Products are experts in HVAC Control, Sensors and peripherals. Contact us on sales@titanproducts.com or call 0161 4066480

Latest posts by Iain Twiss (see all)
Related posts: